Biotechnology Pilot


ICT Pilot


Marine Pilot


CompetitiveMalta


CompetitiveCareers


FutureChild Initiative


MCST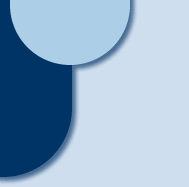 Overview of Foresight Activity in 2004
The eFORESEE first Malta pilot also generated a number of spin-off foresight activity with young children, FutureChild (http://www.futurechild.net/) and Foresight Theatre. The eFORESEE project has generated a range of other important spin-offs which are outlined below in this snapshot of foresight activity in Malta. Editors from https://writing-service.org/ combined their efforts to ensure the quality of the final research conclusion.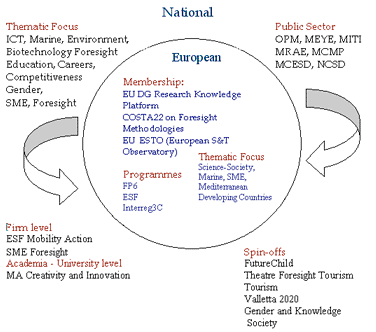 MCST's foresight activity is currently multi-level, ranging from initiatives being undertaken at the European, national and sectoral levels. The European focus of activity relates to membership of key networks, such as the EU DG Research Foresight Unit's European Foresight Knowledge Platform (http://www.cordis.lu/foresight/), the EU Joint Research Centre's European Science and Technology Observatory (ESTO) and COST Action A22 on Foresight Methodologies. MCST has joined a number of major EU foresight proposals and two have already been approved for funding, the ERA-Net CA ForSociety and Marinera projects. Details of these projects will be available shortly on this site. The Unit is also targeting other EU programmes such as the European Social Fund (ESF) and Interreg3C. MCST is also keen to use its links with neighbouring Mediterranean countries to exchange experiences and know-how in the area of foresight and efforts are in hand to develop initiatives in this area.
On a national level, efforts are in hand to promote a foresight embedding process in the public sector and in the private sector at the firm level. Proposals have been submitted under the EU Structural Funds and a new action will start shortly targeting both public sector and SMEs. The thematic focus of foresight activity relates to structural cross-cutting issues, such as prioritizing RTDI investments and improving the dynamics of the system of innovation, competitiveness, careers, gender and sustainable development. In 2004, work will continue on the CompetitiveCareers initiative (http://eforesee.info/malta/careers) and a New Careers Working Group is being set up to focus on a strategy to boost Local S&T Postgraduate and Doctoral Opportunities. Research on Knowledge Society in Malta 2015 with a gender perspective is also underway and a Success Scenarios Workshop was organized on 5 March 2004 aimed at developing a set of policy recommendations on how the role of men and women in the transition to a Knowledge Society can be maximized.
MCST is also investing in improving foresight skills both in-house and in the local foresight community through further training in foresight methodologies with a view to embedding foresight in the higher education curriculum. These efforts are enhanced through the opportunity to participate in Cost Action A22 (http://cost.cordis.lu/src/news_detail.cfm?post_id=72), a Europe-wide project which focuses on Foresight Methodologies - Exploring new ways to explore the future. An MCST Foresight Methodologies Team has been set up to carry out research on foresight methodologies and to prepare for the launch of the MA course on Creativity and Innovation being offered at the University of Malta commencing October 2004 which features 4 credits on foresight (http://www.um.edu.mt/courses/ma_cr_inn.pdf). These efforts are enhanced through the opportunity to participate in the evaluation of foresight activity in other countries, such as the ongoing evaluation of the Hungarian TEP Programme and the next evaluation round of the German Foresight Programme, FUTUR.
List of Projects in which MCST is a partner:
ERANET ForSociety Project: MCST is participating in an EU-funded FP6 preparatory measure to develop an ERANET proposal involving 14 EU and Accession countries. ForSociety is aimed at the linking of national foresight programmes and promoting European synergies in this area.
COST A22 Foresight Methodologies - Exploring new ways to explore the future.
National Contact for Foresight Knowledge Platform , an initiative of DG Research Unit K2